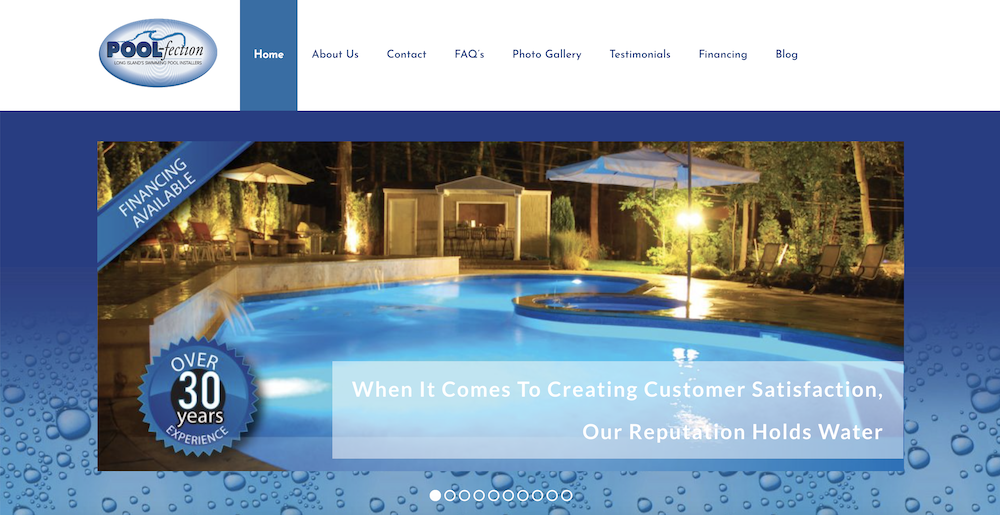 With over 30 years of building &. designing beautiful pools for the Long Island community POOL-fection launches a new website. Family owned & operated by Joseph Domiano he strives to make installing pools the best customer experience possible. POOL-fection offers a wide variety of selections to clients to help achieve the style they are looking for. Their team can push the limits of the imagination when it comes to installing the pool of your dreams. From cascading water fountains to illuminating lighting they can turn your backyard into your favorite vacation spot. Once your pool is built stop by our retail store located at 531 Route 111
Hauppauge, NY 11788 for chemicals, supplies or just to say hello!
In order to showcase all of POOL-fection's latest pools a new website was in need. For this POOL-fection hired Long Island web design company, Benjamin Marc. " When I first met Joe from POOL-fection I knew instantly that I wanted to work with him. His fun personality matched with the amazing pools that they install made my job much easier. Before even hiring us I knew that POOL-fection was a top Long Island pool company. Not only does POOL-fection install amazing pools but they take stunning photos to go along with it. This made building the website more visually appealing to online visitors. In addition to breaking down service web pages the website displayed a photo gallery that emulates a showroom for pools. Being that POOL-fection builds such astonishing pools customers may not be informed of their other top notch services. We built in depth web pages for these services such as:

Openings / Closings
Liner Replacements
Pool Patios
Variable Speed Pumps
Salt Systems
Povers
Salt Water Pools
and more. Since the website launch analytical traffic softwares show an increase in online visitors". Says Anthony Savino, Benjamin Marc CEO.
Please browse through the website and let us know your thoughts.