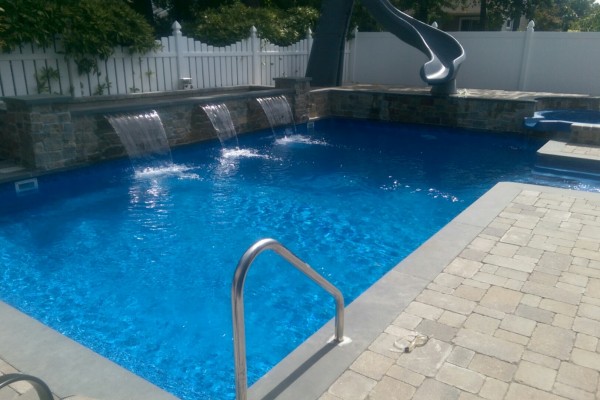 Building Your Dream Pool
POOL-fection's 30 years of experience creating and installing stunning pools in Long Island means that founder Joe Domiano has three decades worth of professional expertise. Building custom pools and relationships with clients is our speciality. Leading with integrity and loyalty, Joe and his POOL-fection staff guide families through each detail, from initial consultation to the final walk-through.
POOL-fection focuses on every element, from design to choosing materials and utilizing every inch of space to create a dream backyard. We approach the situation as though helping a family member achieve their custom pool-building dream. Additionally, POOL-fection's commitment to installing your pool correctly and efficiently saves you from spending money on costly repairs or fixes in the future. As a Long Island pool company we use only the highest quality products in the industry.
The POOL-fection family commitment continues after the completion of your pool. We help maintain your new investment by offering multiple products, including pool liners, vacuums, pumps, and more. Opening and closing your pool each season can be tricky; we also provide guidance and services to help you through this process.
Make your POOL-fection backyard dream oasis a reality by financing your home improvement project today. Loan flexibility and low financing options, along with an easily accessible online portal to make applying and maintaining your account simple. Visit the finance section of POOL-fection's web page to complete your online application in under 15 minutes.
Testimonials
Joe and the POOL-fection team pride themselves on customer satisfaction. We are proud to service our satisfied POOL-fection customers, many of whom happily provided testimonials. Visit our testimonial section to see why our customers encourage their Long Island neighbors to contact Joe and the POOL-fection team for all their pool build and maintenance needs.